Sheryl Crow's Winding Road

---

heryl Crow sings a song on her second release that's not so much about a physical place but rather an emotional one. It's called "Home." It's a quiet, bittersweet ballad about a woman who married at 17 and ends up disillusioned at 32.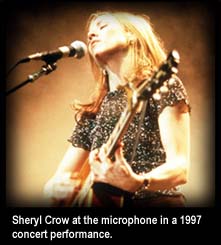 Crow wrote the song in five minutes in the studio, live on the microphone. It's an odd number for her, in a way, since she's never been married. And yet there is an emotional residue to the song that resonates in her own life. On her way to rock stardom, Crow has made choices, and not all of them have been without personal cost.
"I'm sort of at a point now where I'm looking at my life and wondering why I've never been married," she says. "I'm sort of looking at my life and experiencing some regret, wondering if I'd gone down this road, instead of that road, what my life would have been like."
For the 35-year-old singer-songwriter, the road chosen has stretched from modest beginnings to the top of the pops: a childhood spent in the Missouri town of Kennett; college at Mizzou; teaching in St. Louis; jingle and session work in Los Angeles; back-up singing for Michael Jackson; rock stardom in her own right.
It also is a road that has been littered with controversy, and some long bouts of loneliness.
Today, Sheryl Crow would seem to have it all: two multi-platinum selling albums under her belt, five Grammys on her shelf, sold-out tour dates behind and in front of her. Her videos have been shown on MTV, and she's practically been the house artist on the music channel VH1. She's sung with Pavarotti, been joined on stage by the likes of Emmylou Harris, rocker Joan Osborne and the Band's Levon Helm. There's even been a rumored romance with Eric Clapton.
But beneath the glitzy appendages of fame, the Missouri native has also learned that success these days carries an enormous price tag, especially for women.
Small Town, Saturday Night
---
Sheryl Crow grew up in the Bootheel of Missouri, in Kennett, population 10,941, a town roughly 200 miles south of St. Louis. It is the place, more than any other, where her heart remains.
It is genuinely something of a different world in Kennett, far more Southern in its feel than Midwestern. White tufts dot the roadside, clear signs that the cotton industry butts up to this edge of the state.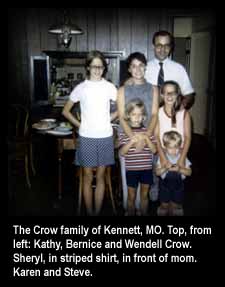 When you first pull into town, there are signs that the corporate, homogenizing reach of modern America has extended down into this burg. There's a Wal-Mart superstore, a McDonald's, a Taco Bell, a Pizza Hut and a strip mall with a Dollar Store.
And yet most of Kennett still reveals a compelling throwback quality to another era -- the clock here turns on small-town time. The local paper, The Daily Dunklin Democrat, is all of 14 pages thick. The stores that ring the town square -- Mitchell Drug Store, the Downtown Flea Market, the A.J.K. Shop -- still retain a '50s storefront feel, while further up the road Kennett Bowling Lanes bears a sign declaring "Friday Night All You Can Bowl."
Bernice Crow, Sheryl's mother, is a petite, brunette piano teacher who turned 60 in May. She has known her husband, the attorney and amateur trumpeter Wendell Crow, all her life. They both grew up in nearby Caruthersville, and have called Kennett home since 1959. They raised four children here: Karen, Kathy, Sheryl, Steve.
Sheryl Crow was born Feb. 11, 1962. She grew up in the family's two-story brick house, three minutes from the square by car, a comfortable home with a music room and a back porch where, as Kathy Crow puts it, "we sit outside and fling a burger on the fire once in awhile."
When Sheryl was growing up, Wendell and Bernice Crow played in a local big band. "We usually practiced on Wednesday night, and a lot of it wound up at our house. So the kids heard it always," says Bernice Crow.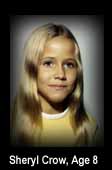 By the time Sheryl was 3, she was busy entertaining her family by singing "Downtown" in a near perfect imitation of the Carnaby Street songbird, Petula Clark. Bernice remembers how she and her husband and two older daughters would laugh and laugh at Sheryl's preternatural act, and talk about "our little rock singer.
"Little did we know," adds Bernice.
There were three pianos in the house, and often all three girls would practice at the same time, with Bernice occasionally calling out "B-flat." The stereo was always on, reflecting the tastes of the various Crow family members, from jazz to big bands to more contemporary '70s singer-songwriters.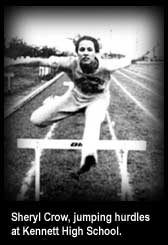 Sheryl lived a seemingly idyllic childhood as an attractive, popular girl active in athletics, choir and school plays. Yet she says she always felt as if she was on the periphery of the cool group. And she also was kind of a people-pleaser; it was important for her to win her folks' approval. That mattered most to Sheryl.
The yearbooks that chronicle her four years at Kennett High, from 1977 to 1980, bear out the golden girl image: drum majorette, a member of the Pep Club, Future Farmers of America, and the National Honor Society. She was also Freshman Maid, Senior Maid and the Paperdoll Queen.
Whatever activity she took on, Sheryl threw herself into it with a perfectionist's zeal. She'd endlessly practice her baton twirling in the family's backyard, studying her reflection in the house's big glass window. Marching back and forth for hours, she eventually stomped a dirt path in the grass.
Mizzou Days
---
Sheryl Crow majored in music education with a concentration in piano at the University of Missouri at Columbia. She pledged the Kappa Alpha Theta sorority. Her goal was to teach music to youngsters.
She studied with Raymond Herbert, a music professor at Mizzou, who had taught her older sister Karen a few years before. Herbert considered Karen exceptionally gifted, both academically and musically.
Sheryl was slightly less exceptional. No question, she was a very good student and musically talented in her own right, but more than that, she was a plugger.
Herbert sensed a fierce determination behind Sheryl's "sweet, delicate" demeanor." At her insistence, he gave her piano selections not only suitable for her current level but also ones that demanded more virtuosity. Sheryl never failed to master those pieces.
But Sheryl Crow's greatest claim to fame occurred outside the classroom. She played and sang in a Top-40 campus band Cashmere, rolling out the covers every weekend for the local frats and sororities: Heart's "Barracuda," Lionel Richie and Diana Ross' "Endless Love," the Doobie Brothers' "China Grove," Nena's "99 Red Balloons."
By all accounts, the band was no great shakes in the creative department, but it got Crow onstage, singing and playing keyboards in front of the public. She liked it up there, and for a few in the audience, it became the first overt sign of her deepening drive to perform.
Even in Cashmere, Crow was always wanting to do more, always talking about doing original songs. Fred Moreadith, Cashmere's drummer, remembers her determination, her always going that extra mile.
But when college came to an end, so did Cashmere. Crow moved to St. Louis, lived in the Georgetown Apartments in Webster Groves and worked for two years teaching music at Kellison Elementary School in the Rockwood District in St. Louis County.
At the time, the clean, modern, brightly lit school in Fenton served roughly 700 students in kindergarten through sixth grade. Crow worked as a vocal music teacher, and taught the special chorus for the fifth and sixth grades.
Mary Jackson, a second grade teacher at Kellison, recalls a "hometown girl from a small community, a relatively quiet, strait-laced, nice girl," but never sensed a future rock star in her midst.



---