eam physicians keep professional athletes game ready. But players--active and retired--must pay the cost of injury after team insurance ends.
Professional athletes are pressured to play hurt, according to Frank Woschitz, the Director of the Retired National Football League Players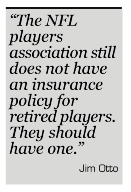 Association. "This makes purchasing medical insurance a reality," says Woschitz.
"One way they (the teams) do this is to keep doctors on retainer to provide operations that keep players playing," says Woschitz. He deals with the life-long after effects of players who play hurt. According to Woschitz, the players pay a bigger price physically and financially once they retire. "There isn't a health care plan for professional football players, retired or active, because none are affordable," says Woschitz.
Some retired injured players have resorted to filing workers' compensation claims to force owners to pay for some of their future medical bills. If a physician declares a player suffers "permanent disability," then under California workers' compensation rules the team could be liable for the cost of treatment of those injuries for the rest of the player's life.
Players like former San Francisco 49ers quarterback Joe Montana assert their contract with their former teams entitle them to benefits. Montana has a "cumulative trauma" claim on file; if granted, he would forfeit his right to sue the 49ers for medical costs incurred after his retirement.
Montana has supported athletes' rights to workers compensation, saying the issue is about players who have short careers and injuries requiring long-term care who can not find insurance.
NFL owners are backing two bills to reduce the number of players eligible to receive benefits: one eliminates cumulative trauma claims, and limits benefits to athletes who reside in California whose employer was based in California. The second prevents professional athletes earning more than $225,000 from collecting workers compensation for their injuries.
The California State Senate recently rescheduled hearing the bills until 1998. NFL owners claim there are about 4,000 former players currently receiving workers' compensation.
According to Woschitz, the players' association is constantly in search of an insurance underwriter to cover the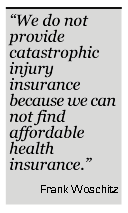 players. "It is not an unwillingness on our part--we do not provide catastrophic injury insurance because we can not find affordable health insurance."
Since his retirement, former Raider Jim Otto says he has spent more than $500,000 of his own money on health care. "The NFL players association still does not have an insurance policy for retired players," said the 59-year-old former offensive lineman. "They should have one."
In the interim, the Retired Players Association provides critical medical treatments free of charge. "The program boasts an orthopedic surgeon, a cardiologist and also a doctor specializing in treating prostate problems of former players," says Woschitz.
"The Players Association has worked hard to find those doctors who will operate for nothing," says Otto, who, for a time after his 1974 retirement did not have insurance. "And help those retired players who can not afford insurance, or do not have insurance," he says.
Otto is fortunate that he is able to access health care and a joint replacement specialist as he readies for another surgery. "I've got the finest doctor in the world up in Vail, Colorado," Otto says. "This shoulder is going to come back faster than the other one."